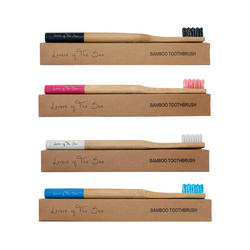 Lovers of The Sea
Bamboo Toothbrush (Pack of 4 - Mixed Colors) B
This toothbrush will help you reduce your impact on the environment while keeping your teeth clean.   
Free shipping in US & CA on orders over 49 CAD.
Our bamboo toothbrushes are made from 100% natural bamboo handles and BPA-free nylon bristles, making them 97% plastic-free. The handle is biodegradable and the bristles are recyclable.
Pack of 4 - Mixed Colours: This pack comes in 4 mixed colours, making it easy to share the pack within a family.
Why you'll love them:
Reusable, eco-friendly, biodegradable
Handle: 100% Natural Bamboo
Bristle material: BPA-Free Nylon
Bristle texture, shape: Soft, wavy
Bamboo is completely biodegradable so when you're ready to replace your toothbrush, simply rip off the bristles (recycle them) and drop your handle back into earth.
Our shipping rates are as follows:
Canada
Flat-rate of 9.99 CAD on all orders less than 39.99 CAD
FREE on orders over 40.00 CAD (before taxes)
USA
Flat-rate of 14.99 CAD on all orders less than 59.99 CAD
FREE on orders over 60.00 CAD (before taxes)
International Shipping
We currently do not ship outside Canada and USA.
Orders are processed within 48 hours of purchase.
Orders within North America will take 5-7 business days to arrive. Delivery details will be provided in your confirmation email.
For more info on shipping and returns, please check our FAQ page here.